Pillsbury SALT is excited to welcome Chris Koester to the team!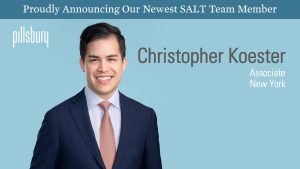 Chris' experience includes tax controversy, from audit defense through litigation, and also counsels on multistate tax planning and structuring matters.
He joins Pillsbury's New York office as an associate.
5 Questions with Chris:
1. What drew you to the law?  
Since I didn't know any lawyers until I started law school, I grew up curious about what exactly lawyers did.  I had a reliable mentor throughout college who encouraged me to research the legal profession and consider applying to law schools.  And now, I can't think of anything I would rather be doing.
2. What aspect of State and Local Tax law do you find most interesting?  
Tackling complex State and Local Tax issues often requires an understanding of the law of multiple jurisdictions, including how federal and international taxes may impact the analysis.  I enjoy how this dynamic allows me to constantly work through novel and complicated tax issues.
3. What is one of your most memorable / funniest / happiest times during law school?  
I met some of my best friends in law school.  The shared struggle of preparing for exams late into the night led to some profound philosophical discussions over cold pizza in the law library.
4. What is your go-to comfort food? 
I never get tired of sushi.
5. What do you do for fun? Any hidden talents? 
Cycling!  I will be participating in my second Five Boro Bike Tour in May, which consists of 40 miles through all 5 boroughs of New York City.