Pillsbury SALT is pleased to welcome Joseph Chan to the team!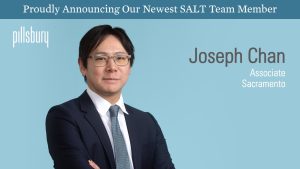 Joseph's experience includes audit defense, protests and tax controversies and all aspects of state and local tax matters.
He joins Pillsbury's Sacramento office as an associate.
5 Questions with Joseph:
1. Who inspires you?
My parents. They took an incredible risk coming to America with a language barrier and barely any savings, but they did what they could so my brother and I could have a better life than they had. I owe them everything and I always try to make them proud.
2. What drew you to the law?
When I was working in tax accounting firms, I was always attracted to the litigation side of the business. It appeared much more rewarding to be able to help clients with legal troubles. Eventually, I made the jump to work in a law firm and I found it is true. It is especially fulfilling for me to empathize with someone's problems and then make their lives better through expertise and the law.
3. What aspect of State and Local Tax law do you find most interesting?
I find it interesting that even international social influencers are discussing SALT issues now. Many feel taxation in the United States is like trying to comply with the rules of 50 different countries. As business evolves to less and less tangible connections, understanding all the rules will become increasingly more important.
4. What is your go-to comfort food?
Every time I accomplish something difficult, I celebrate by grabbing a spicy chicken sandwich from Popeyes.
5. What do you do for fun? Any hidden talents?
I love modifying cars and taking it to events, like rally cross.