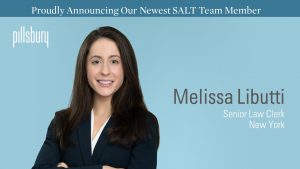 Pillsbury SALT is excited to welcome Senior Law Clerk, Melissa Libutti to our team! Melissa focuses on tax controversy, from audit defense through litigation, and also counsels on multistate tax planning and structuring matters. Melissa previously clerked for Pillsbury during Law School at Fordham University and we are thrilled to have her on the team permanently. She will join our New York-based team.
5 Questions with Melissa
If you didn't study law, what field or industry would you be working in?
I would probably be a journalist. I was the news editor for my college newspaper. Before deciding to go to law school, I wanted to be a feature writer for a publication like National Geographic.
Who inspires you?
My parents. They are both incredibly smart, hardworking, and selfless.
What is your favorite movie or TV show?
I think I have a new "favorite" TV show every year. My current favorite is The Queen's Gambit on Netflix. I have a chess app on my phone now because of it.
What aspect of State and Local Tax law do you find most interesting?
State and Local Tax has elements from all of the courses I found most interesting in law school. If I had to pick one, I think I'd say that the statutory interpretation we do is the most interesting. An analysis or even a court or agency decision can often hinge on the meaning of a single word or phrase.
What is your go-to comfort food?
Pasta. I could eat penne with arrabbiata sauce every day.