Pillsbury SALT is pleased to welcome Jeff Phang to the team!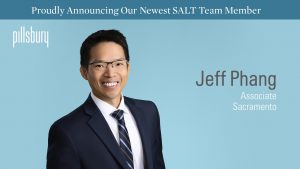 Jeff focuses primarily on tax controversy including voluntary disclosure agreements, audit defense, protest, settlement negotiation, and appeals proceedings. Jeff also advises on mergers and acquisition state and local tax diligence for a diverse range of businesses.
He will join Pillsbury's Sacramento office as an associate.