Join Jeff Phang, Jeff Vesely and Robert Merten on day two of the California Lawyers Association's 2023 Annual Meeting of the Tax Bar and Tax Policy Conference, when they will each speak on separate panels.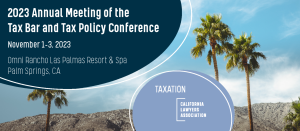 9:40 – 10:40 AM Sourcing Income from Passthrough Entities & Developments Since Metropoulos – Jeff Phang
This panel will focus on the interplay between the California personal income tax law and the tax law for entities in the context of sourcing income—namely, income derived from an ownership interest in a pass-through entity or the sale of that ownership interest.
10:50 – 11:50 AM California Litigation Update – Robert Merten
This panel brings together well-known speakers from the Franchise Tax Board, California Department of Tax and Fee Administration and private practice for a candid overview of the important developments of SALT litigation on a national and state level.
1:45 – 3:15 PM Substantial and Occasional Developments in Alternative Apportionment for Corporate Income Tax – Jeff Vesely
This panel will discuss California's alternative apportionment rules with a focus on the Substantial and Occasional Sale rule.
For more information or to register, please visit the event page.