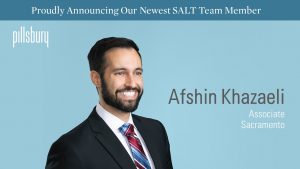 CPA and former Big 4 associate, Afshin Khazaeli joins Pillsbury SALT!
Afshin advises clients on a variety of state and local tax matters, including controversy, planning, and audit defense, across all state and local tax types, including sales and use, income, franchise, and property tax. Pillsbury SALT is thrilled to welcome him to our award-winning team. Afshin is based in Pillsbury's Sacramento office.
5 Questions with Afshin
Who inspires you?
I'm inspired by my father and his relentlessness.
What drew you to the law?
I love being a trusted advocate for my clients.
What aspect of State and Local Tax law do you find most interesting?
State and local tax is constantly changing, evolving and adapting.
What has been your most challenging or rewarding case?
Each case has been uniquely challenging, and the most rewarding cases are when I help my clients achieve unexpectedly great results.
What is your go-to comfort food?
Persian food! Reminds me of my mother's cooking and being back at home.
Welcome to Pillsbury SALT, Afshin!