Pillsbury SALT is excited to welcome Breanna Zagorski to the team!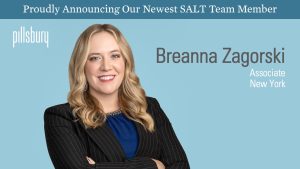 Breanna's experience includes a variety of state and local tax matters, including multistate litigation, planning, audit defense and controversy issues.
She joins Pillsbury's New York office as an associate.
5 Questions with Breanna: 
1. What drew you to the law?
I participated in mock trial in high school, which sparked my interest in law, particularly in litigation.  That interest only grew throughout my time in college, so I ultimately decided to pursue a legal career.  Fun fact – every superlative that I've ever won has been "Most Likely to be Elle Woods."
2. What aspect of State and Local Tax law do you find most interesting?
I find State and Local Tax law interesting because there is an opportunity to learn something new every day.  Every state has slightly different tax laws, which are constantly changing.  It's interesting to learn about developments in legislation across the states and to think about how we can help our clients navigate those developments.
3. What is your most memorable time during law school?
I participated in my school's Federal Tax Clinic where I was able to represent low-income taxpayers in resolving federal tax matters.  I found the clinic to be more interesting than a typical law school class since it was a hands-on experience and provided a glimpse as to what life would be like as a practicing attorney.  I also loved being able to help people through my work in the clinic.  My participation in the clinic is a large part of why I decide to pursue tax law.
4. What is your go-to comfort food?
My go-to comfort food is probably chocolate chip pancakes.  I love sweet breakfast food and chocolate chip pancakes remind me of home.
5. What do you do for fun?
I have lived in NYC for a few years, but I grew up in a small town.  I love taking advantage of all that NYC has to offer, so in my spare time, I like exploring different parts of the city and trying new restaurants.