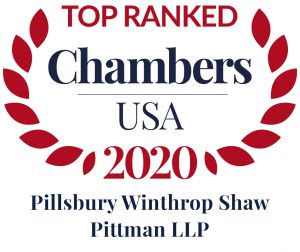 Pillsbury SALT is proud to announce its inclusion in the Chambers USA 2020 Guide. In 2020, Chambers ranked 28 Pillsbury practices and 79 individual lawyers. Tireless work & deep client relationships again awarded Pillsbury SALT's Carley Roberts, Jeff Vesely and Marc Simonetti individual recognition.
Jeff Vesely and Carley Roberts were both ranked Band 1 for their work in Tax: State & Local – California. Chambers notes that "Jeffrey Vesely chairs the SALT practice at the firm and is a fine choice for income, franchise and employment tax issues, among others. Market sources say: 'He knows his stuff.'" To highlight Carley's recognition, Chambers writes "Carley Roberts is a preeminent practitioner who handles SALT issues. Sources say she is 'very thorough in her approach and also very responsive to client questions and inquires.'"
New York-based partner Marc Simonetti is recognized as Band 2 in the 2020 guide for his work in Tax: State & Local – New York. His Chambers review mentions "Marc Simonetti is a respected SALT practitioner. 'He's very passionate about what he does and he has a great rapport with clients,' notes an interviewee, adding: 'He's very daring and is willing to try new things.'"
Congratulations to Jeff, Carley, and Marc on this well-deserved honor!
For the full list of Pillsbury recognitions, please click here.