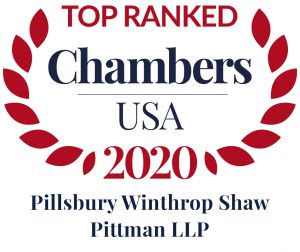 Pillsbury SALT is proud to announce its inclusion in the Chambers USA 2020 Guide. In 2020, Chambers ranked 28 Pillsbury practices and 79 individual lawyers. Tireless work & deep client relationships again awarded Pillsbury SALT's Carley Roberts and Jeff Vesely individual recognition.
Jeff and Carley were both ranked Band 1 for their work in Tax: State & Local – California. Chambers notes that "Jeffrey Vesely chairs the SALT practice at the firm and is a fine choice for income, franchise and employment tax issues, among others. Market sources say: 'He knows his stuff.'" To highlight Carley's recognition, Chambers writes "Carley Roberts is a preeminent practitioner who handles SALT issues. Sources say she is 'very thorough in her approach and also very responsive to client questions and inquires.'"
Congratulations to Jeff and Carley on this well-deserved honor!
For the full list of Pillsbury recognitions, please click here.