Pillsbury SALT is excited to welcome Jack Camillo to the team!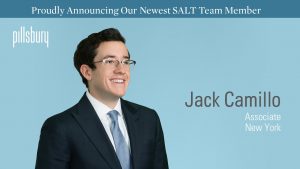 Jack's experience includes multistate litigation, planning, audit defense, and controversy issues.
He joins Pillsbury's New York office as an associate.
5 Questions with Jack:
1. Who inspires you?
I think it's safe to say my parents inspire me.
2. What drew you to the law?
Research and writing drew me to the law. I found litigation interesting, but I always enjoyed writing for as long as I can remember.
3. What aspect of State and Local Tax law do you find most interesting?
State and Local Tax is constantly changing and allows you to experience a wide variety of topics. Also, it's interesting to see trends in taxation begin and sweep across the country.
4. How do you re-center yourself?
Usually by spending time with friends or family. As someone who lives in Manhattan, I also find it helpful to get out of the city and into nature.
5. What is your go-to comfort food? Any interesting facts?
My go-to comfort food is probably pizza. I've recently gotten into making my own pizza at home.
Little known fact – I'm unable to drive long distances. I probably have a 1-hour window before I fall asleep!