Pillsbury SALT is pleased to welcome Lexi Louderback to the team!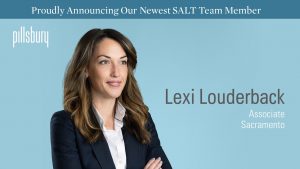 Lexi's experience includes state and local tax matters, focusing on tax controversy, from audit defense through litigation, and counsels on multistate tax planning and structuring matters.
She joins Pillsbury's Sacramento office as an associate.
5 Questions with Lexi:
Who inspires you?  My two sisters inspire me both in my professional and personal life.  They have built strong careers for themselves, all while being the backbones of their families and supporting those around them.
What drew you to the law? I always wanted a career where I could help people during stressful times and law just became a natural progression for me.
What aspect of State and Local Tax law do you find most interesting? I love that SALT is never static and there are constantly opportunities to keep learning.
What is your go-to comfort food?  My go-to comfort food is probably Thai food or the occasional jalapeno and pineapple pizza.
What do you like to do when you aren't working?  I like to spend as much time as possible outside with my one year-old goldendoodle, Rae. I love trying new restaurants and am looking forward to traveling again!