Pillsbury SALT is pleased to welcome Jeff Phang to the team!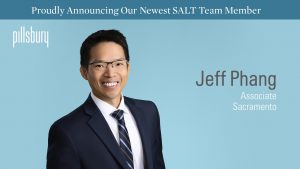 Jeff focuses primarily on tax controversy including voluntary disclosure agreements, audit defense, protest, settlement negotiation, and appeals proceedings. Jeff also advises on mergers and acquisition state and local tax diligence for a diverse range of businesses.
He will join Pillsbury's Sacramento office as an associate.
5 Questions with Jeff:
Who inspires you?  I am inspired by the dedication, intellect, and creativity of my clients and colleagues. One of the best aspects of this profession is the energy that permeates the air when you gather a bunch of smart people in a room to try to solve a problem.
What drew you to the law? I enjoy helping and teaching others. As an attorney, I get to do both everyday.
What aspect of State and Local Tax law do you find most interesting? Having the opportunity to learn about the businesses of our clients.
What has been your most challenging or rewarding case? I had the opportunity to help a grocery wholesaler with an extensive unitary audit that followed the acquisition of a grocery retailer. Not only were we able to achieve a great result, but I also learned about the tremendous expertise and effort that goes on behind the scenes of my local grocery store down the street. I will never look at a loaf of bread the same way.
What is your go-to comfort food & do you have any hobbies that you enjoy? I enjoy pizza and go-karting.