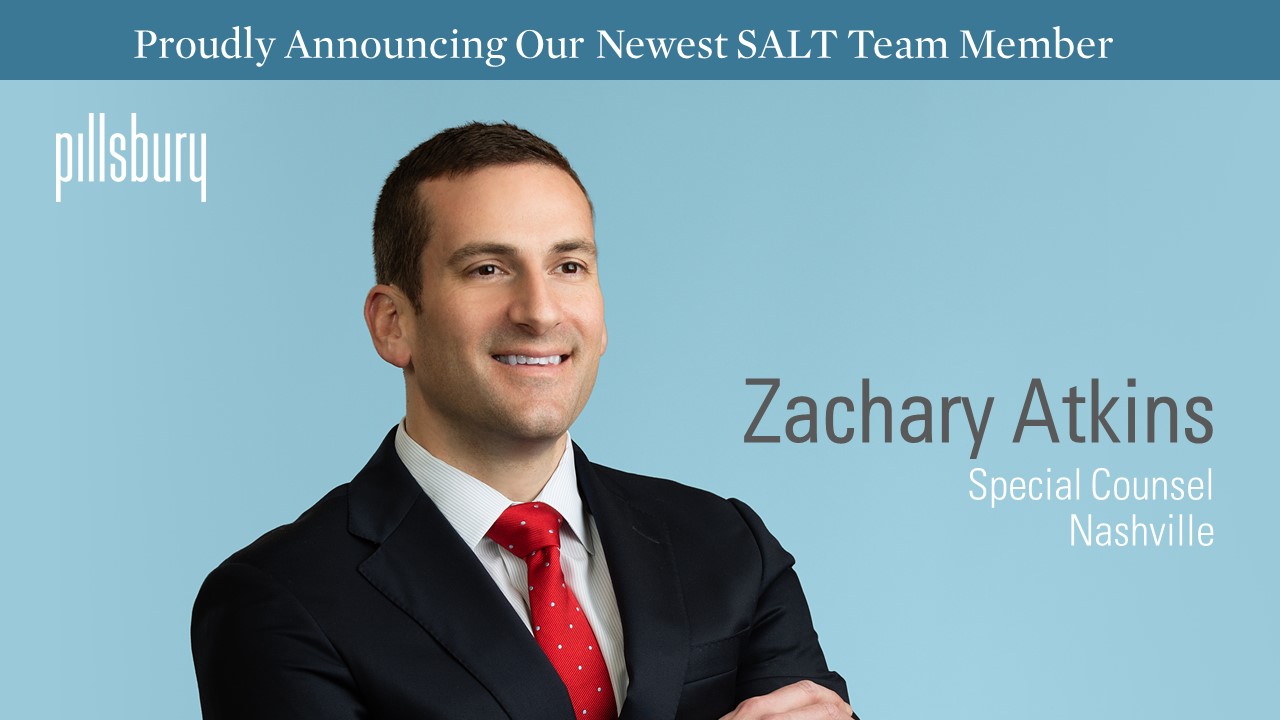 Pillsbury SALT is pleased to welcome Zachary Atkins to the team!
Zack previously served as a deputy general counsel to Fitzgerald USA handling a diverse range of projects from tax to corporate matters. Prior to joining Fitzgerald, his practice focused primarily on state and local tax issues as an associate at Eversheds Sutherland from 2010 to 2017.
He will join Pillsbury's Nashville office as a special counsel, expanding our nationwide SALT practice.
5 Questions with Zack
Who inspires you?
Schoolteachers. I admire their patience with and dedication to their students.
What drew you to the legal profession?
The opportunity to meet clients in a number of industries, learn about their businesses and help them navigate complex challenges.
What aspect of State and Local Tax law do you find most interesting?
The diversity of legal issues and work. State and local tax law offers almost everything: federal and state constitutional issues, statutory construction issues, and administrative law issues, just to give a few examples. On top of that, I may be working on property, sales and use, and corporate income tax litigation, planning or consulting across multiple jurisdictions, all at the same time. There is never a dull moment.
What makes a case rewarding?
In my experience, the most rewarding cases are those where our successful representation has a meaningful, positive impact on the client's business.
What is your go-to comfort food?
Does pizza count as a cuisine? In all seriousness, Italian food has always been my favorite.