Pillsbury SALT is pleased to welcome Taylor Wolff to the team!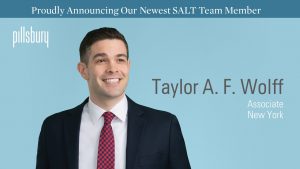 Taylor's experience includes multistate litigation, planning, audit defense, controversy issues, and mergers and acquisitions.
He joins Pillsbury's New York office as an associate.
5 Questions with Taylor:
1. Who inspires you?
My mom inspires me. She was a social worker in the Bronx for about 30 years. She treated children, adolescents, and families as a therapist. She was also a substance abuse counselor and worked with people who have been incarcerated in the criminal justice system, as well as those who have been diagnosed with HIV/AIDS. Her commitment to helping those less fortunate instilled in me a strong sense of justice. I remember her taking me to work where I got to meet the attorneys and judges. I was so excited to see the courtrooms and one judge even invited me to sit on the bench!
2. What drew you to the law?
I have a deep desire to help people and was drawn by the fun of distilling complex topics in easy ways that help my clients. I also love to write, and lawyers write a lot!
3. What aspect of State and Local Tax law do you find most interesting?
Laws are always changing in the 50 states, D.C., and myriad of localities across the United States. I like the challenges that come with these changes, and how my work can help businesses and stimulate the economy. I also love the deep underpinning of Constitutional Law and sinking my teeth into a good constitutional argument. SALT is a fun combination of code-based analysis, digging into definitions and statutory construction, and creative Constitutional interpretation.
4. What is your go-to comfort food?
I love sushi and I am a soup enthusiast, especially homemade chicken soup.
5. What do you do for fun? Any hidden talents?
I love to go to comedy shows and live concerts, travel, play board games and cards with friends, and am interested in finance and real estate podcasts/books and mindfulness meditations. My hidden talent is drawing courtroom caricatures!